CFA Certification Course
The CFA curriculum covers academic theory, current industry practice, and ethical and professional standards to provide a strong foundation of advanced investment analysis and real-world portfolio management skills. Clearing all three levels along with relevant work experience ensures professional excellence for those who have earned the charter. The topics covered by the CFA curriculum are:
Ethical and Professional Standards
Quantitative Methods
Economics
Financial Reporting and Analysis
Corporate Finance
Portfolio Management
Equity
Fixed Income
Derivatives
Alternative Investments
Overview of CFA Courses
The CFA program consists of a series of three exams: Level1, 2 and 3 conducted every year, each culminating in a six-hour exam. All three levels require dedicated six months of preparation. The program progresses in complexity as you move through the three levels. Clearing all three levels lead to award of prestigious CFA designation. CFA courses prepare you for the challenges you'd face at all levels of this program.
At Level I, you will be asked basic knowledge and comprehension questions focusing on asset valuation. Some questions will require that you perform analysis. Level II further emphasizes analysis along with application, while Level III focuses on synthesizing basic knowledge with evaluation tools and analytical methods for effective portfolio management. When you join CFA courses you get deep insights into the preparation required for all the three levels.
LEVEL I: TOOLS
Tools and concepts that apply to investment valuation and portfolio management
Basic concepts regarding asset classes, securities, and markets
CFA Institute Code of Ethics and Standards of Professional Conduct
LEVEL II: ASSET VALUATION
Application of tools and concepts of investment valuation
Industry and company analysis
Analysis of investment vehicles and instruments
CFA Institute Code of Ethics and Standards of Professional Conduct
LEVEL III: PORTFOLIO MANAGEMENT
Management of institutional and individual portfolios
Management of specific asset class portfolios
CFA Institute Code of Ethics and Standards of Professional Conduct
Top Occupations of CFAs Globally
CFAs globally are working in number of areas of finance. The professional breakdown for most CFAs is illustrated in the following chart: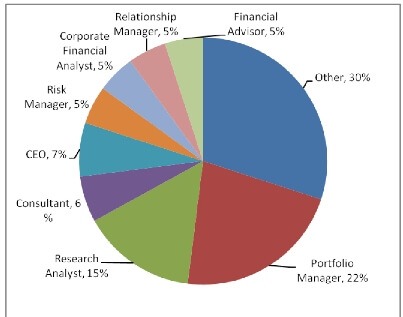 The CFAs are hired by all global companies in the finance domain. Top ten companies that usually favor CFAs for investment profile include:
JP Morgan Chase
PwC
HSBC
Bank of America Merrill Lynch
UBS
Ernst & Young
RBC
Citigroup
Morgan Stanley
Wells Fargo
CFA Program Candidates
In FY14, the CFA Institute received over 210,000 exam registrations across three levels. Top occupations of CFA Candidates (who enroll for CFA examinations) are: chart2 - CFA Certification Course
Values and benefits of being a Charterholder
CFA charter shows mastery of the skills much needed in investment analysis and decision making in today's fast evolving global financial industry.
CFA program is a cost-effective way to gain skills in today's global investment profession and make transition to a career change in investment profession.
CFA program helps to make a wide variety of career choices in investment profession owing to its complete knowledge base in finance.
CFA helps you make sound investment decisions in ever changing world of finance.
The CFA Program curriculum is based on an extensive and ongoing global practice-analysis process that relies on input, discussions, surveys, and review from thousands of active practitioners and CFA charterholders.
The CFA Program is designed for self-study, which helps you to gain charter while working.
CFA institute also conducts eductaional and nertworking events for its members around the world.
CFA institute conducts research and provide webcasts, and article abstracts on timely topics prepared by thoughtleaders and academic experts from around the world.