From Placement Desk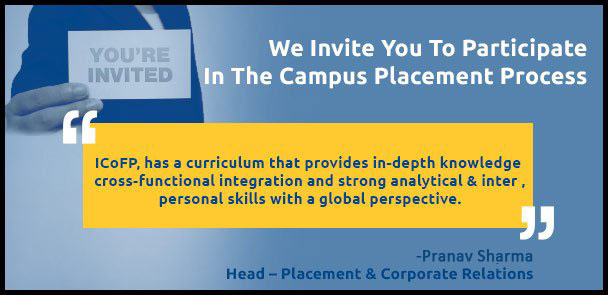 Dear Recruiters, With the financial markets changing in a blink, the world needs human resources that are adaptable to the dynamic status quo yet grounded with values. With its lauded pedagogy of over a decade, the ICoFP prepares students to not just be a part of an organization but also to the world at large. MBA (Financial Analysis) and MBA (Financial Planning), the flagship programs of ICoFP, has a curriculum that provides in-depth knowledge, cross-functional integration, and strong analytical & interpersonal skills with a global perspective.
Our Institute employs high-quality study material, teaching aids conforming to international standards, effective research study and adequate industry interface through regular seminars and conferences.
We follow a distinctive approach and tutorial system which underpins a culture of close academic and personal supervision. At our college, we provide a supportive and stimulating environment. Students interact closely with their lecturers and fellow students, sharing ideas and opinions. Our programs more closely reflect on individual interests and skills and require a degree of independent thinking and study.
The student profile is a vibrant mix from diverse backgrounds and thus gives the batch a new outlook to ideas and situations. Our alumni are reputed and hold offices in the most esteemed organizations worldwide. The faculty consists of distinguished and learned academicians and practitioners who provide students not only with theoretical knowledge but also guide them with practical examples and projects. The students also get the privilege of interacting with guests from the industry who have achieved various accolades in their respective work fields. ICoFP focuses not only on professional development but also prepares individuals to undertake social responsibilities through community service programs. Industry visits, workshops, and co-curricular programs are a regular feature in the respective program.
The preparation and hard work of students to gain knowledge would remain dormant without the corporate relations that we are honored to share with members of the business world.
Therefore, we invite you to participate in the campus placement process for the year 2018-19. We look forward to a strong and long-lasting relationship with our corporate partners.
Warm regards,
Pranav SharmaHead – Placement & Corporate Relations