Master Financial Planner (MFPTM)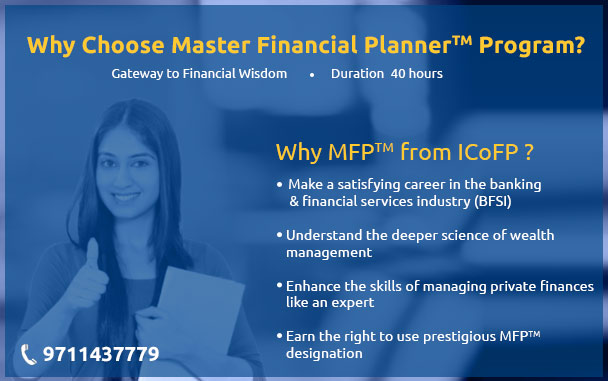 Financial services are one of the fastest growing sectors of the economy. : According to a report by National Skill Development Corporation (NSDC) on Human Resource and Skill Requirements in the Banking and Financial Services Industry (BFSI), it is expected that about 8.4 million persons would be employed in the BFSI industry, considering the growth expected in the BFSI industry. As per this report, the incremental human resource requirement between 2008 and 2022 is expected to be about 4.2 million. The majority of this requirement will be in wealth management, financial advisory, Insurance and Financial Planning.
Program Overview
Considering the demand in the growing financial services sector, International College of Financial Planning (ICoFP) has designed a unique Master Financial Planner (MFP) certification program which will prepare career aspirants and existing finance professionals to make a satisfying career in the banking and financial services industry (BFSI). With the Master Financial Planner certificate, a candidate can work with individuals to help them achieve their short term and long term financial goals. Financial Planners create wealth for their clients and also for themselves. Upon successful completion through the program, you earn the right to use 'MFP' as a designation after your name
Program Objectives
The program has been designed considering the finance industry requirement which equips candidates to understand the deeper science of wealth management during an ever changing atmosphere of financial markets.
The Program aims at enhancing the skills of managing private finances like an expert as you gather requisite knowledge about financial mathematics and practices to achieve superior portfolio returns.
Upon successful completion of the program, you earn the right to use the prestigious "MFPTM" designation after your name.
Curriculum
Program Content
The program is based upon carefully researched and highly need based curriculum for finance professionals in BFSI
Basics of Financial Planning
Tools for Solving Financial Problems
Financial Markets
Investment Alternatives
Modern Techniques of Portfolio Management
Asset Allocation and Investment Strategies
Behavioral Finance
Insurance and Retirement Planning
Tax and Estate Planning
Regulatory Environment and Professional Ethics
Admissions
Course Duration
40 hours
Eligibility & Admission Process
Admission Procedure:
Eligibility
Candidate must have passed the Higher Senior Secondary Certificate.