CERTIFIED FINANCIAL PLANNERCM
CERTIFIED FINANCIAL PLANNERCM certification is a mark of excellence granted to individuals who meet the stringent standards of education, examination, experience and ethics. It is the most prestigious and internationally accepted Financial Planning qualification recognized and respected by the global financial community.
The CFPCM certification wins trust and presents opportunities worldwide. In this era of super specialization, the Professional Certification CERTIFIED FINANCIAL PLANNERCM certification gears career aspirants and existing financial intermediaries for giving comprehensive financial advisory services to individuals and make a satisfying career in the financial services industry.
CFPCM certification is the highest level of certification worldwide in the field of Financial Planning with over 1,71,000 CFPCM certificants and widely respected by consumers, professionals & industry. Our Certified financial planner course prepares you for this certificate program.
The CFPCM certification training is built in a way such as to impart knowledge of how to frame financial policies with regard to cash control, lending, and borrowing. It lets students understand the best possible utilization of scarce financial resources at least cost, in order to get maximum returns on investment.
CFPCM designation is a professional certification mark for financial planners conferred by the Certified Financial Planner Board of Standards (CFP Board) in the United States, Financial Planning Standards Council in Canada and 24 other organizations affiliated with Financial Planning Standards Board (FPSB), the international owner of the CFP mark outside of the United States.
FPSB US is the principal licensing body that awards CFPCM Certification in India through an agreement with FPSB Ltd.
CFP Career Opportunities
CFPCM certificant gets enhanced career and employment opportunities with Financial Services companies. It is endorsed by top 44 leading Financial Service Companies in India. Charter Members of FPSB US have resolved that they will give first preference to CFPCM certificant for recruitment.
Below mentioned are some benefits for your career:
Your services are sought by banks, distribution houses, AMC, insurance Companies, equity broking and Financial Planning firms.
Your credentials will demonstrate trust among the financial consumers.
You will meet the global benchmark for competency, ethics & professional practice standards to provide comprehensive Financial Planning services.
You will join the global league of the best Financial Planning professionals.
More revenue streams by increasing your product and service offering to your clients.
Benefits of CFP Certification
Valued by Stakeholders around the world, CFPCM Certification benefits consumers, practitioners, financial services firms and legislators/regulators/governments in a variety of ways. Learn how each stakeholder group values CFPCM Certification by clicking on the tabs below:
CFP Curriculum
CFP Curriculum in India has changed wef 1st June 2020.
New CFP Curriculum in India is a unique 4-in-1 certification program, which means that it one single program, you get awarded with 4 Certifications.
New CFP Curriculum is segmented into 4 levels. Upon completion of each level, FPSB awards an International certification for that level.
CFP Level 1 – FPSB® INVESTMENT SPECIALIST
International Certification for Investment Professionals specializing in Equity, Mutual Funds , Debt & Other Investments
CFP Level 2 – FPSB® RETIREMENT & TAX SPECIALIST
International Certification for Retirement Planning, Wealth Building, Income Tax, Tax Filing, Tax Saving & Tax Planning
CFP Level 3 - FPSB® RISK & LEGACY SPECIALIST
International Certification for Risk Planning, Life Insurance, General Insurance, Legacy &, Real Estate Planning
CFP Level 4 - CFM CM - CERTIFIED FINANCIAL PLANNER
International Certification for Financial Advisors, Financial Planners, IFAs, Investment Advisors & Finance Professionals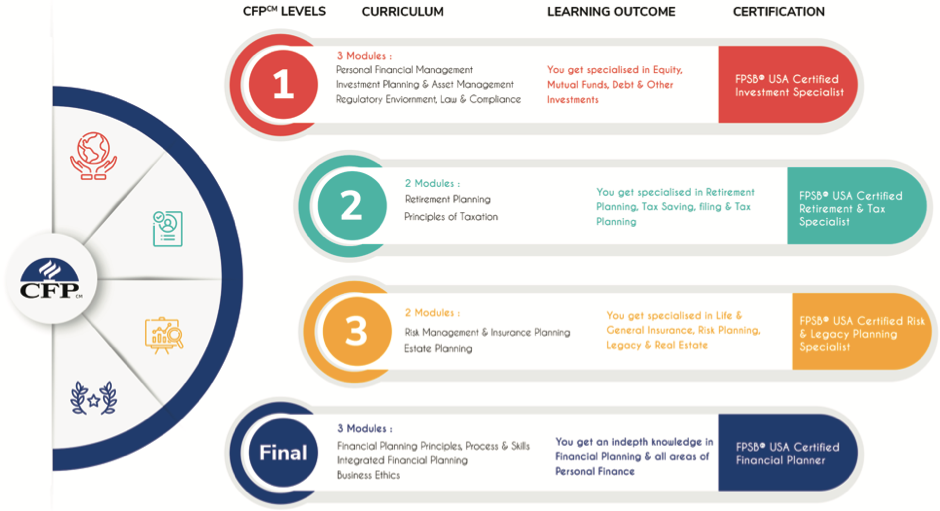 Introduction to Financial Planning
This module would serve as an introduction to Financial Planning. The module would cover in detail the Financial Planner Competency Profile, the six step process which includes Financial Planning process, client interactions, general principles of financial management, financial mathematics, personal financial statements, cash flow and debt management, asset acquisition, FPSB US Code of Ethics and Professional Responsibility and Model Rules of Conduct, and the regulatory environment related to the Financial Planning domain.
Risk Analysis & Insurance Planning
This module would cover the knowledge requirements relating to insurance needs and risk assessment of clients. It introduces students to various concepts and regulatory environment of insurance in India.
The evolution process requires advice on decisions in selecting various types of insurance related to personal finance for clients. This includes protection against exposures to risks of mortality, health, disability, property, liability, and long term care risk.
Retirement Planning & Employees Benefits
This module would cover the knowledge of basic strategies towards achievement of objectives of a client of his/her post-retirement financial and other needs and ways to systematically build the required corpus.
The knowledge and skills of exploring and constructing various retirement solutions such as income flow from a purchased annuity and/or a fixed asset as well as of retirement products available or devised/customized would be tested.
For clients who are employees of an organization – government, quasi-government or private, the superannuation benefits eligible and their assimilation in retirement strategy would be required for a prospective CFPCM professional.
The emphasis would also be on the process of wealth creation and its protection and liquidity aspects in the approaching years to retirement and in the post-retirement period.
Investment Planning
This module would cover the critical knowledge of different asset classes and interplay amongst them, the products constituting such classes and their investment risk profile to enable the management of a client's finances towards achieving various financial goals.
The development of vital understanding of the basic risk profile of the client so as to astutely recommend appropriate asset allocation is a crucial area requiring mastery. Another aspect that needs sharp skills is the measurement of investment risk and returns, their analysis in portfolio evaluation and alignment to suit the financial goals.
The awareness and knowledge of the regulatory environment of investment products and services is an essential domain.
Tax Planning & Estate Planning
This module would cover the knowledge requirements of Indian Tax System, specifically related to Direct Taxes and personal taxation.
The tax treatment of the types of income such as agricultural, business, salary and the attendant exemptions and benefits need to be discerned. The emphasis is on tax efficiency of transactions at all stages, viz.
Structuring of emoluments, saving taxes within permissible limits as suited to long-term goals, investing, spending, gifting and transferring wealth. The knowledge of various business forms and related tax strategies is also covered.
The Estate planning is emphasized not as a late stage requirement but a necessary succession arrangement always in place for all assets – fixed, physical and financial. The discerning knowledge of tax laws and succession laws and their compliance procedures is a rigid requirement of this module.
Advanced Financial Planning
The final module builds upon the knowledge gained in the previous modules and incorporates all aspects of personal finance that are vital for developing a comprehensive financial plan.
Students are taught the steps necessary for collecting and evaluating client data, developing, recommending and executing appropriate strategies and also important aspects related to ongoing monitoring and evaluation of financial plans.
Review of the legal, ethical and regulatory issues affecting financial planners is also covered.
Pathways to CFP Certification
There are 2 Routes available to study for CFP program.
1 – Instructor Led
FPSB Board has authorised Education Partners in India who offer CFP Study programs based on the curriculum provided by FPSB. Student can enrol with an Education Provider. ICOFP is India's 1st and Largest CFP Education Provider authorised by FPSB USA. When you enrol at ICOFP, you get the comprehensive study materials designed exclusively by ICOFP. The study materials comprise of books, workbooks, videos, live classes, case studies, projects, guest lectures, assignments and much more. Once your study is over and you are ready to take the exam, ICOFP certifies you for he same and you don't need to take the chapter quizzes and mock tests. Straight away, you become eligible to take the Level wise certification exam.
2 – Self Study
A student can register with FPSB directly and opt to a self study. Under this route, student has to register with FPSB and then subscribe to their online learning management system upon which he gets study contents in the form of e-books. Using them the student has to prepare for the exams. Before the exams, student has to take the chapter quizzes and mock tests and pass them with 70% marks to be eligible for taking the Level wise certification exam.
CFP Study Fees at ICOFP
You can opt to study for CFP level wise or can enrol for the full program together, the choice is yours.
The fee plan for ICOFP CFP Study Modes are as below :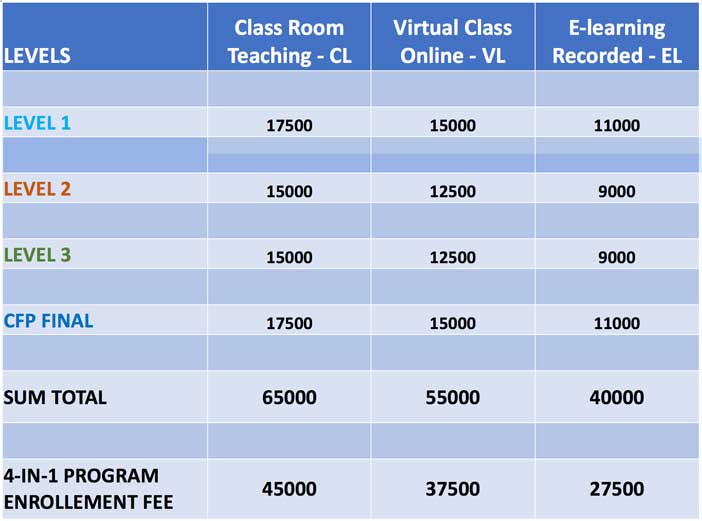 Being a top CFP education provider, ICOFP also has financing tie-ups where you can get Interest Free Student Loans for your CFP Education Fee as above.
CFP Certification Fees at FPSB
While you register and enrol with FPSB, you need to pay the fees as per the following schedule.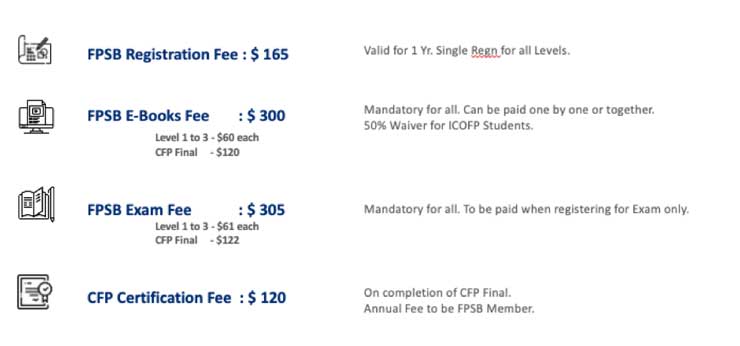 CFP Eligibility
Pathway To CFPCMCertification

Pathway
Education
Examination
Experience
Ethics
CFP Certification
Regular
A candidate must be HSC/12 pass at the time of enrollment and has to complete the Education criterion, which is passing the four level wise examinations either through self study or through training support from any one of FPSB India's approved Education Partners.
CFP Level1-2-3 & CFP Final Exam
Either Pre or Post CFPCM Examinationa (3 Years for Graduates & 5 Years for Non Graduates)
Online Study and Attestation Program of FPSB for 5 hrs Signed Declaration for adherence to FPSB India's Code of Ethics Rules of Professional Conduct
Candidate is Authorized by FPSB India to use CFPCM Marks i.e CERTIFIED FluANCIAL PLANNERCM, CFPCM
Challenge Status
In case of certain NISM Exams, CA / Insurance Licentiate/ the level wise Online Study Materials subscription at FPSB is exempted at L1 & 2. Education exemption means that they are exempted from buying the study materials but they do need to take Online Mock Test before taking the level wise certification exam.
Pre CFPCM Examinationa (3 Year in Financial Service Industries and 5 Year for Non-Financial Service Industries )
CFP Study Materials at ICOFP
Unique blend of Books, e-books, Practice Papers, Projects, Video Lessons, Mock, Guest Lectures to enrich your knowledge, skills and making you a qualified CFP Professional.

There are 3 modes of CFP Study at ICOFP:
1. Class Room
Get taught by expert CFP faculty by attending CFP classes in Delhi and CFP classes in Mumbai at ICOFP campus.
CONTENTS IN CLASSROOM MODE:
Concept Books , Work Books , Pre-View Videos , Re-View Videos , Assignments , Online Mock Tests , Doubt Clearing Session , Case Studies for Practice , Group Projects , Guest Lectures .
(PACKAGE OF 10 ITEMS IN STUDY MATERIALS)
2. Virtual Online
Get taught by expert CFP faculty by attending CFP online classes across India. Study with Online Video classes.
CONTENTS IN VIRTUAL MODE:
Concept Books , Work Books , Pre-View Videos , Re-View Videos , Assignments , Online Mock Tests , Doubt Clearing Session , Group Projects .
(PACKAGE OF 8 ITEMS IN STUDY MATERIALS)
3. E-Learning
If you have a previous academic or professional experience of Finance and you want to study on your own, you can take the e-learning mode. You get pre-recorded videos by the faculty along with best CFP contents.
CONTENTS IN E-LEARNING MODE:
Concept Books , Work Books , Pre-View Videos , Re-View Videos , Online Mock Tests , Group Projects .
(PACKAGE OF 6 ITEMS IN STUDY MATERIALS)
CFPCM Classroom Training
At ICoFP, we believe in providing knowledge based as well as skill based training. Apart from preparing the candidates for CFP examinations through classroom teaching, mock tests etc., we also provide practical training which includes Financial Products training, Financial planning through mutual funds, financial plan construction through excel and more.
On completion, the candidate is not only prepared or CFP examinations but also ready to work in the industry or start his own financial planning practice to provide holistic financial planning services.
Candidates have the flexibility to choose from weekdays as well as weekend classes that best suit their schedule.
Virtual Classes for CFP
Welcome to New-Age Learning!
Wherever you are in India, if you want to study for CFP, you can study with India's best CFP institute with Realtime Online teaching by the most trusted and expert faculties. You can join online CFP classes and study for CFP conveniently from the safety of your home. Post Covid, considering the travel restrictions and social distancing, Virtual Classes for CFP is the best option. CFP Virtual Classes at ICOFP are highly interactive and are delivered by the same faculty who teach in the class room as well.
CONTENTS IN VIRTUAL MODE:
Concept Books , Work Books , Pre-View Videos , Re-View Videos , Assignments , Online Mock Tests , Doubt Clearing Session , Group Projects .
(PACKAGE OF 8 ITEMS IN STUDY MATERIALS)
CFP E-Learning
Goal of the E-Learning platform is to provide the best user experience, anywhere, anytime, and any device. With the latest technology of Learning Management System (LMS), E-Learning platform aims at delivering updated and engaging content in the most interactive way. Our new and updated portal will give you the best learning experience that can be self-paced and allows a learner to track his/her progress throughout.
CFP Admission Procedure
STEPS TO BECOME A CFPCM CERTIFICANT FROM ICoFP
At ICoFP we emphasize on providing world-class education that will inspire and challenge all students and prepare them for the future.
Our Curriculum has been developed in association with Financial Planning Association (FPA) Australia and National Insurance Academy (NIA) as well as academicians from leading institutes such as IIM, FMS etc.
For a candidate to be a CFPCM certificant, he/she needs to complete the education program in maximum of seven years. To become certified, he/she is required to meet the following initial certification requirements:
Step 1 – ELECT: A candidate must choose the level of series from the following:
CFP Certification Knowledge Series – Classroom Mode (Weekday/Weekend options available)
CFP Certification Knowledge Series – E-Learning Mode/Virtual Classes
AFP Certification Tutorials
Step 2 – Enroll with ICoFP for exam preparation
Step 3 – Register with FPSB
Step 4 – Enroll for exam with NSE
Step 5 – Crack the exams, surge ahead & become a CFPCM certificant
The CFPCM Edge!

CFP Level 1
Investment Specialist Curriculum comprises of 3 Modules – Personal Financial Management (PFM), Investment Planning & Asset Management (IPAM) & Regulatory Environment, Law & Compliance ( RELC).
Within each of these modules, there are 2 Sub Modules – Global & Indian. So the curriculum covers 60% of the Global Content & Concepts and 40% of the India Specific Content & concepts.
1. Personal Financial Management
Client Financial Situation
Time Value of Money
Cash Flow Demands and Conflicts
Budget and Emergency Fund
Debt and Financing Alternatives
Financial Management Strategies
2. Investment Planning/Asset Management
Asset Classes and Securities
Pooled Investment Products
Principles of Investment Risk
Investment Performance Management
Investment Theory
Asset Allocation
Wealth Management
Behavioral Finance
Objectives, Constraints and Suitability
3. Regulatory Environment, Law/Compliance
Client Best Interest
Economic Environment
Social and Political Environments
Compliance and Implications
Anti-Money Laundering
CFP Level 2
RETIREMENT & TAX SPECIALIST comprises of 2 Modules – Retirement Planning (RP) and Tax Planning (TAX).
Within each of these modules, there are 2 Sub Modules – Global & Indian. The RP curriculum covers 60% of the Global Content & Concepts and 40% of the India Specific Content & concepts but TAX curriculum has 30% Global and 70% India Specific Content to study.
1. Retirement Planning
Retirement Principles
Retirement Objectives
Retirement Needs Analysis and Projections
Sources of Retirement Cash Flow
Retirement Cash Flow, Withdrawal Projections and Strategies
2. Tax Planning/Optimization
International Taxation
Cross-Border and Source Rules
Tax Strategies
Accounting Standards and Research
CFP Level 3
RISK & LEGACY SPECIALIST comprises of 2 Modules – Risk Management & Estate Planning.
Within each of these modules, there are 2 Sub Modules – Global & Indian. Risk Management as a module comprises the content more on Insurance whereas Estate Planning is Legacy & Succession Planning focused content.
1. Risk Management
Principles
Risk Exposures
Intro to Insurance
Insurance Company/Advisor Selection
Strategic Solutions
2. Estate Planning
Estate Planning Terminology
Wealth Distribution Goals
Estate Planning Process
Transfer During Life and at Death
Planning for Incapacity
Estate Planning Strategies
CFP Final
CERTIFIED FINANCIAL PLANNER comprises of 3 Modules – Financial Planning Process, Engaging Clients for Life & Developing Effective Plans. The final level is more about the practical aspects of Financial Planning & Strategic management of Financial Planning business. The concepts here are more of global in nature.
1. The Financial Planning Process
Financial Planning Process
Practice Standards
Professional Skills
Client Characteristics
Client Engagement and Communication
Critical Thinking
2. Engaging Clients for Life
Introduction to the Discovery Process
Appreciative Inquiry
Discovery Process Applied
Goal Determination, Refinement and Setting
Develop Financial Planning Recommendations
Presenting Recommendations to Clients
3. Developing Effective Financial Plans
Financial Planning Overview
Financial Plan Elements
Developing Effective Plans
Sample Financial Plans
Financial Plan Assessment
CFPCM FAQs