Affiliations
University of Mysore

International College of Financial Planning is an out-reach center providing super-specialised finance programs and offering two-year full time Masters programs in financial planning and financial analysis.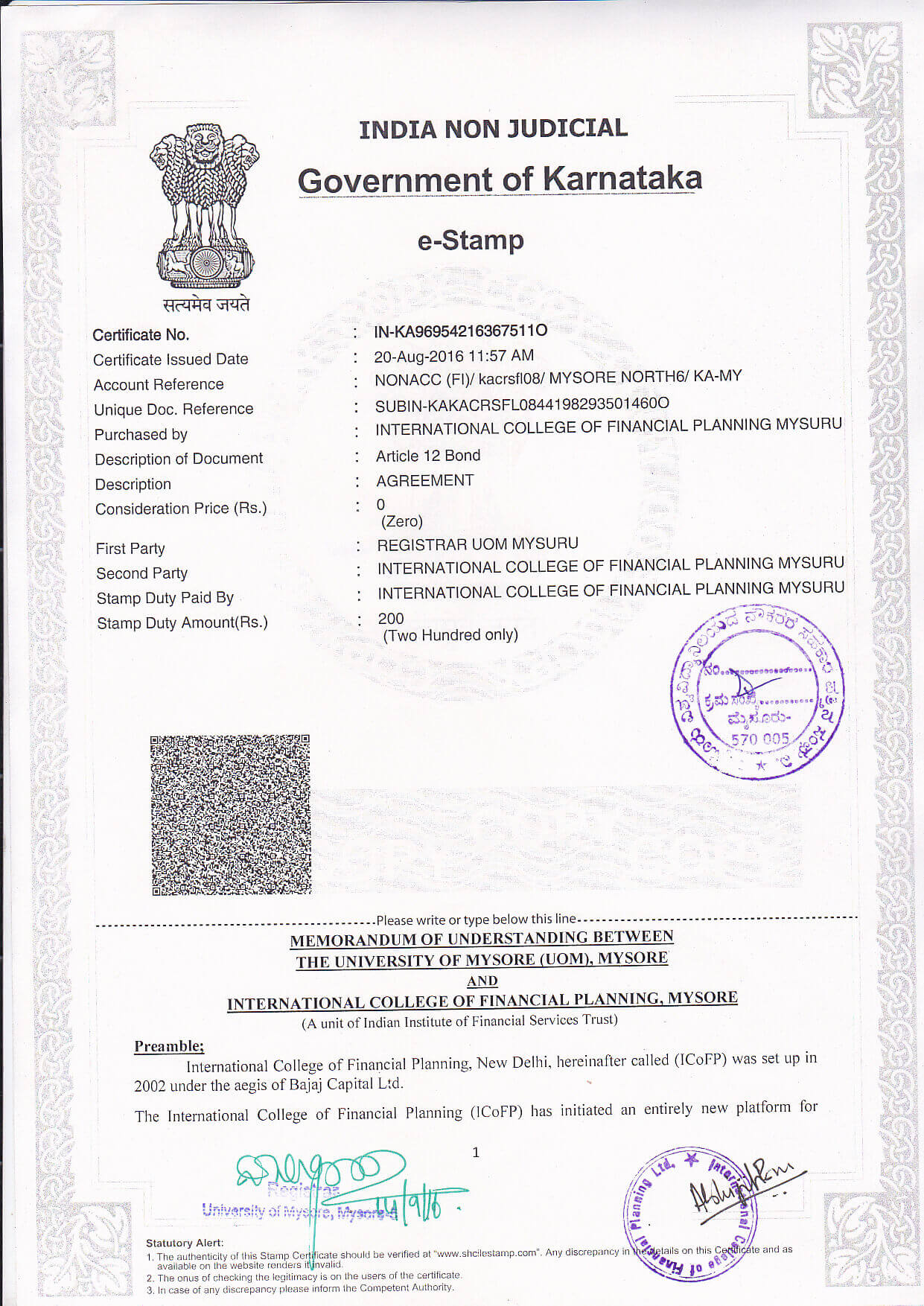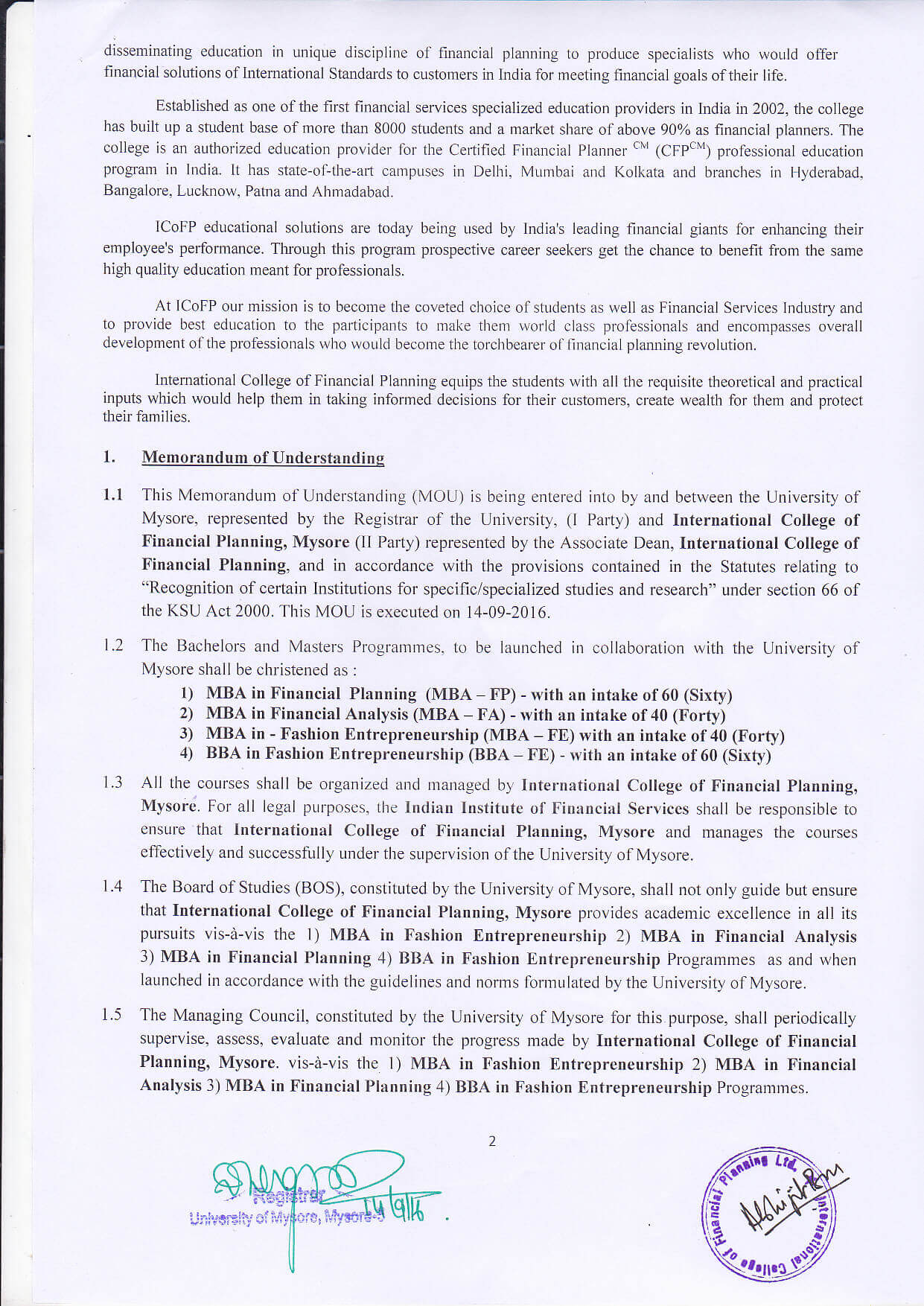 International College of Financial Planning will offer a master's programme in Financial Planning, Financial Analysis, Fashion Entrepreneurship and a bachelors programme in Fashion Entrepreneurship in association with University of Mysore, from September 2013. The University of Mysore has been accredited by National Assessment and Accreditation Council (NAAC) with "Grade A" in 2013.

Masters degree is awarded by the University of Mysore which is recognized by University Grants Commission (UGC) (click here to check link).
Financial Planning Standards Board (FPSB)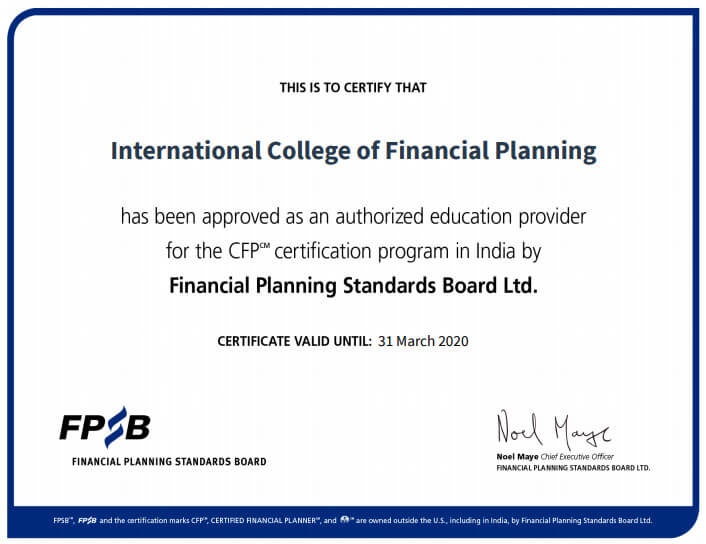 The institution is an authorized education provider of Financial Planning Standards Board, India (FPSB) for the CFPCM Certification. FPSB India is a Professional Membership & Certification organization and part of leading Global Confederation, established by prominent financial service organizations in India.
Jawaharlal Nehru Technical Education – Council Of Skill Development(CSD) (Established under Act 1882, Government of National Capital Territory Delhi, INDIA) Registered with ministry of HRD (CR), & Planning Commission, Govt.of India.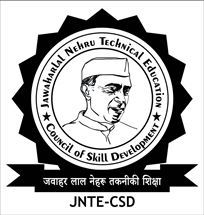 PG Diploma in Financial Planning which is the specified job oriented and self-entrepreneur course in the field of Financial Planning. These courses would help semi-skilled and skilled
people to develop skills which will help them in building expertise based on their educational background and Job prospects in market.
Ansal University

Affiliations Ansal University was established in 2012 under the Haryana Private Universities Act 2006. Located in the heart of Gurgaon, India's largest hub of National and Fortune 500 companies. The University has collaborated with some of the finest Universities and Institutions in the UK like the University of Warwick, Art University of Bournemouth, University of West England and Vatel International, France in the areas of Curriculum Development, Student and Faculty Exchanges, Joint PhD supervision, joint research Conferences , seminars and study semesters abroad. The campus infrastructure ensures that you have what you need to learn, work and play hard! The University boasts of a sprawling 14-acre wi-fi-enabled well-maintained, green campus, AC and non AC hostels, Well equipped library, classroom to mention a few.